Reading Time:
7
minutes
Unpacking your suitcase and setting up your first destination can be an overwhelming task. Here are 10 travel gadgets that can help organize and simplify your trip. There are many travelers who attempt to simplify their journey by packing as lightly as possible. But this can be quite challenging because a moment's loss can put you behind in the race to your destination. Recent innovations in travel tech have dramatically improved the trip experience by cutting down on the time you spend with suitcases. Here are 10 super-useful travel products that can make your next adventure smarter and more fun.
1. Everlasting Comfort Airplane Footrest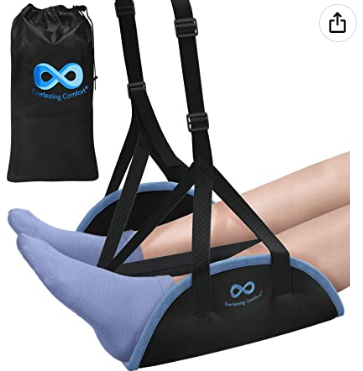 It takes about 10 seconds to fold up and use it. We can store it in a bag or briefcase. It folds flat and uses its handle to be carried across. The footrest is quite versatile. We can use it in the economy section of the airplane. We can use it in the middle seat of a business class seat where it won't obstruct the person sitting in front of you. In the pagoda seats in business class or on the seat in front of the business class pilot and the flight attendant. Here, the seat belt will place over the footrest, and you can stand up in very little space to go through security.
Modern travel requires hours on an airplane. Some of us enjoy it, and some of us hate it. No matter what our opinion is, after a long flight, we all can feel uncomfortable cramping in our legs. You won't have to feel like this again, thanks to this footrest, and instead, you'll be able to relax and unwind on the plane without discomfort.
Even though it is designed for in-flight use, we can use it such as at home or at work, since the footrest is extremely lightweight and easy to pack. The footrest is essentially a little hammock for your feet, so it can be set up extremely easily, allowing you to relax more easily.
2. The Trtl Neck Pillow: Much Lighter than traditional U-shaped travel pillows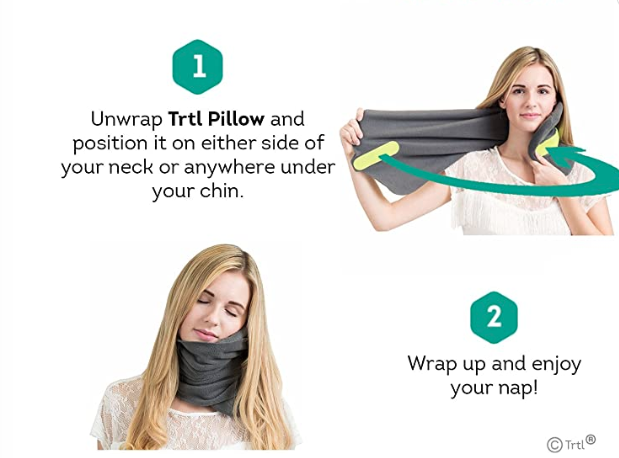 One of the most popular travel products is travel pillows. As more and more people travel, these small, lightweight pillows make our lives much easier. However, what's annoying about most of them is that, because of their size and shape, packing them can be a pain.
With the Trtl pillow, it is much lighter and easier to pack than traditional U-shaped travel pillows. It's not only lighter, but it's actually more beneficial for you. With its design and internal support structure, the Trtl can comfortably hold your head in a much more natural position than other travel pillows.
This, combined with the above footrest, will make your uncomfortable airplane or train seat almost like a bed.
3. Q-Shirts by Utzu: Four Different Designs in One Shirt
If you're a fashion-conscious person, choosing the right shirts can be challenging. If you don't buy more shirts on vacation, the handful you pack will have to last you for the entire trip.
If you have four different shirt designs, you need to pack four shirts. However, the Q-shirt is revolutionary in design, allowing for sufficient options even when you are on the go. The revolutionary design of the Q-shirt has made it relatively easy to make 4 different designs with one design rather than making 4 different designs and packing each one of them. With a complete change of look, you can bring in four different looks or styles in a single day.
These shirts aren't just revolutionary in appearance either, the fabric used has anti-bacterial properties which help to lessen smells and eliminate odor from sweat. Also, the fabric is designed to allow your skin to breathe easier, so you will feel fresher for a longer time. Unlike other shirts, you will wear them more easily without worrying about hygiene or appearance.
4. Steamfast Home-and-Away Mini Steam Iron
Do you ever notice that no matter how carefully you pack your clothes, they always seem to come out wrinkled? When you're on vacation, you dream of yourself looking great, and when you've got to go, you search for a great iron to use from the hostel or hotel. With this travel-size steam iron, you never need to worry about creased clothes when traveling again.
5. Gobout Travel Bottle For Toiletries: One Small Bottle to Fill with Your Shower Gel, Soap, or Creams.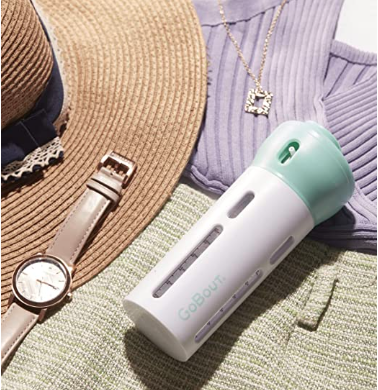 Every time I pack my backpack or suitcase always ends up packed with plastic bottles. Whether it is bottles of shower gel, skin cream, soap, or hand lotion. I end up taking so many bottles that I risk running out of space.
A Gobout bottle solves this bottle problem by condensing it. A smart bottle packed with different sections for you to fill with your shower gel, soap, or cream. So instead of carrying many bottles, you only need to pack one.
You probably thought these bottles must be huge, right? Far from it, each travel bottle is about the size of a smartphone and you can easily carry it in your hand. Just one of these can dramatically change the number of items you need to pack.
6. Traveler's Choice, a Suitcase That Connects to Your Phone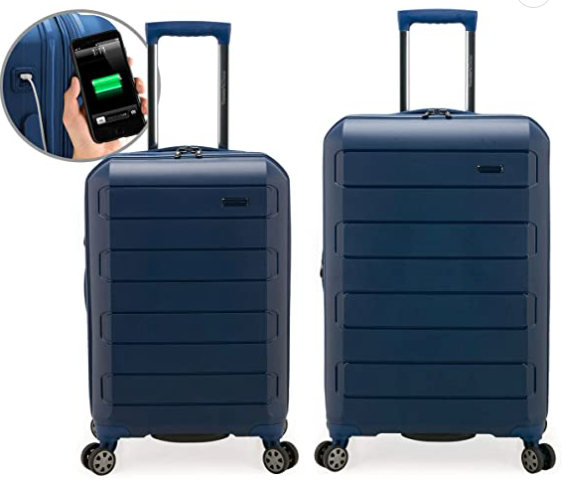 The suitcase is truly amazing and redefines what a suitcase can be. It is always possible to run out of power when you travel. When this happens, it can be much more disastrous than if your phone ran out of power outside of your vacation. Traveler's Choice is a suitcase that has outlets allowing you to charge your phone on the move.
Although it is pricier than most suitcases you might find, the sheer number of extra features it has makes it well worth the extra cost.
7. Scrubba Portable Wash Bag–Hand Washing Machine for Hotel and Travel
All hotels or hostels rarely have decent laundry systems, so I've found that it's hard. On over one occasion, I've had to wash my clothes in the shower with me as there seemed to be no other way (I don't recommend it!).
Washing your clothes with Scrubba is automatic so you can get a machine-quality wash, no matter where you are. The washer is extremely lightweight and can easily pack (in some ways, it's the smallest and lightest washing machine in the world). It's made from a durable bag lined with hundreds of small ridges that scrub your clothes when you squeeze and press it. This is far more effective than hand washing and keeps you dry.
8. Spectacles by Snap Inc.
Warning: These will make you feel like James Bond of using
There are many moments you want to preserve on a vacation. Nowadays, almost all phones have video recording devices. Filming with your phone will often drain battery life, use up memory, or keep your hands free while filming.
With these glasses, you can film whatever you are seeing with a button-activated video camera. With these, you have the option to shoot up to 30 seconds at a time in full HD. You upload your videos directly to Snapchat if you want or even upload them to your phone's camera roll.
So they're a great gadget to buy if you want to keep a video record of your vacation.
9. Lunatec Self Cleaning Travel Wash Cloth
If you expect to be on the move for most of your vacation. We cannot afford to wait around to dry things. Drying with the Lunatec washcloth can take just a few minutes. You can dry yourself off with it, and before you know it, it will be bone dry. This towel is also much simpler to care for than conventional towels or microfiber towels. Despite being covered in dirt, it simply washes away after rinsing. Therefore, it is ideal for RV vacations or hiking trips.
10. CGear Sand-free Outdoor Camping Mat
The beach is a great place to relax, for the warm sun on our faces and the sound of softly lapping waves. Probably the most traditional vacation activity there is. There is nothing more disappointing than having to spend ten minutes removing sand from your beach towel or mat (and even then, grains of sand will appear weeks later). Especially if you get sand all over you.
CGear's Sand-Free mat eliminates this problem completely. The sand doesn't stick to it at all, nor does dust or dirt. In addition, it is incredibly fast drying. So, you can relax or enjoy a picnic on it at the beach.