Reading Time:
3
minutes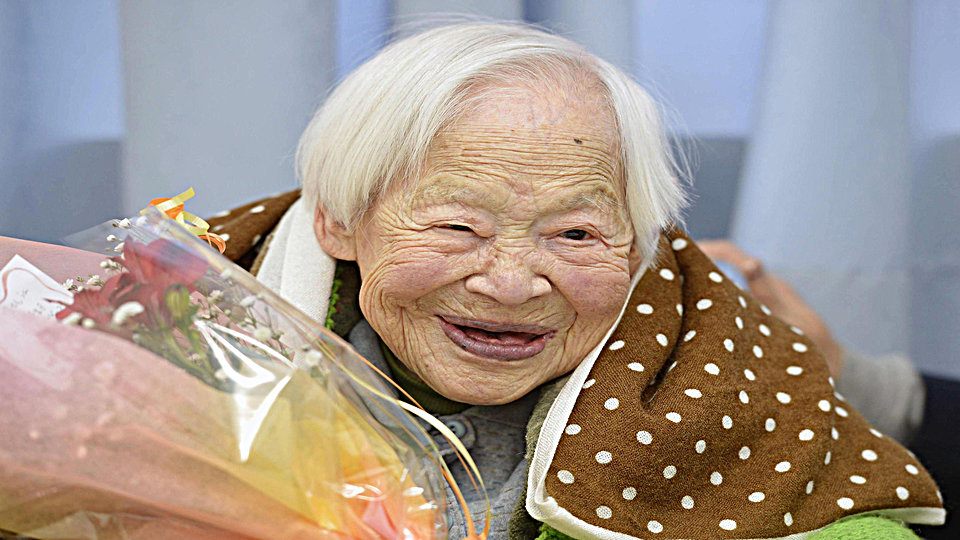 Misao Okawa, until April 1, 2015, when she passed away peacefully in her sleep from heart failure at age 117, was the world's oldest woman. She was born on March 5, 1898, and lived in Osaka Japan. When asked about her secret to long life, she replied that she ate delicious food.
Perhaps the most obvious factor contributing to a long life is good nutrition, but there must be a combination of things that will promote a long and healthy life. Perhaps Misao Okawa embodied the perfect combination of excellent genetics coupled with behavior and lifestyle, which contributed to her long life. In fact, it is widely known that the Japanese generally have long lives that are often relatively healthy. There are a number of factors which contribute to why the Japanese have such longevity, including healthy diets, an equal and cohesive society combining both traditional and ancient customs with ultra-modern lifestyle, values, and technology. They have universal health care and the people tend to look after one another, especially within families, where the younger generation will care for the aged.
Here are some of the secrets that may have contributed to Misao Okawa's very long life.
Diet
Misao Okawa was quoted as saying that her main secret to a long life was "eating delicious things," including beef, noodles, and rice. It is widely recognized that the Japanese diet, consisting mostly of fish, rice, fruit, and vegetables are not only delicious but incredibly healthy. Nutritionist blogger Catherine Saxelby says:
"The traditional Japanese diet, with its emphasis on vegetables, seafood, soy, clear broth, rice, green tea and seaweed, is a semi-vegetarian diet with less fat, less sugar and more antioxidants…

In the midst of a global obesity epidemic, the Japanese have the lowest obesity rates in the developed world, as well as lower rates of diabetes, high blood pressure, heart disease and some (but not all) cancers." Catherine Saxelby.
Rest
Misao Okawa once told interviewers that sleeping and relaxing were important to living a long life. Countless studies have shown that insomnia and sleep disturbance accelerates as we age. Learning to relax by having long, restful, and quality sleep allows the body and mind to function optimally. Sleep improves your heart health and reduces the risk of heart attack. It boosts your immune system, improves your memory, lowers your risk of stroke, makes you happier and reduces depression, as well as a number of other health benefits. Rest is a huge contributing factor to a long life.
Exercise
Japanese people stay active. Radio Calisthenics (Taiso) has been practiced in Japan for decades. Basic stretching and movement exercises are broadcast widely, accompanied by piano music, and as much as 20% of the population, regardless of age, participates first thing in the morning. It happens in workplaces, schools, and in the community, and is a great way for people to keep fit. Exercise is a very important factor in maintaining the health of the body and mind and living a long life.
Moderate alcohol consumption
Surprisingly, moderate consumption of alcoholic beverages does have some health benefits. In Japan, people drink Sake, which is fermented rice wine. Perhaps balancing the risks and benefits of alcohol consumption is a factor in having a long life.
Universal health care
In Japan, whether you are employed, unemployed, or retired, you are covered by one of the tiers of health insurance. It ensures equality of access, which means nobody will ever be denied health care, regardless of their age, income, or location. Japan's spending on health care is around half of that of US expenditures on public or private health care. It demonstrates that the universal health care system, in the long run, ensures people need it less.
Social equality and cohesion
Japanese society is made up of both ancient and traditional customs, intersected with ultra-modern and technologically advanced culture. In an article about longevity in Japan, Jamie Anders discusses the research conducted by Shiro Horiuchi that outlines the way in which Japanese people value group cohesion and community spirit. He argues that they have high self-esteem and therefore better health because they value a sense of belonging and a strong group orientation. In this vein, they work together to live longer lives.
Featured photo credit: immortal.org via immortal.org